The Tinker Board is the Asus competitor to Raspberry Pi. After a shaky start when it first appeared in the UK Asus now seems to got its act together. With the US launch this month Tinker Board is supported by an improved website and is now a serious contender in the IoT single board market,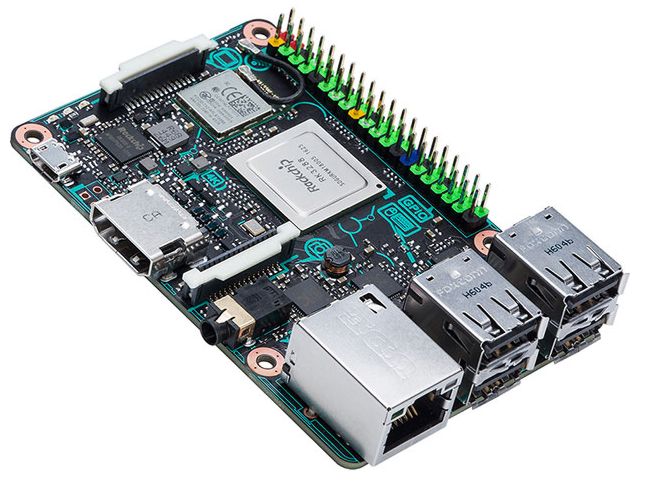 In the US the Asus Tinker Board sells on Amazon for $59.99 which compares well with the UK price of £54, also on Amazon. Although this makes it more expensive that the Raspberry Pi 3 ($35) you need to bear in mind it is more powerful, according to its spec:
The Tinker Board features a fast on-board processor to increase its operational speed. It also features Wi-Fi and Bluetooth capabilities to enhance the functionality to allow connection to a variety of wireless networks.
Quad core 1.8GHz ARM Cortex-A17 CPU
2GB Dual channel LPDDR3 memory
Gigabit LAN and Bluetooth 4.0 + EDR connectivity
802.11 b/g/n Wi-Fi
4x USB 2.0 ports
40-pin Internal header with 28 GPIO pins
Contact points for PWM and S/PDIF signals
1x 3.5mm Audio jack connection
CSI port for camera connection
DSI port supporting HD resolution
1x HDMI 2.0 port to support 4K resolution
Micro SD port supports UHS-I
Supports Debian OS with KODI
Power supply: 5V/ 2A Micro USB (not included)
It initially appeared on sale in the UK without much fanfare and due to the lack of technical support within a matter of a few days CPC withdrew it from sale and still hasn't restored it. Even the ASUS Store doesn't sell it!
Technical and community support are important factors in the popularity of SBCs and both of these are currently lacking for the Tinker Board. Until there is more interest - both on the part of ASUS and the IoT/Maker community our Tinker Board, purchased from CPC as soon as it went on sale, will probably stay in its box.