The Eclipse Foundation's IoT Working Group has released the results of a survey of 502 Eclipse developers. Its findings confirm that Linux rules Internet of Things development and that Amazon Web Services (AWS) is IoT's leading cloud service.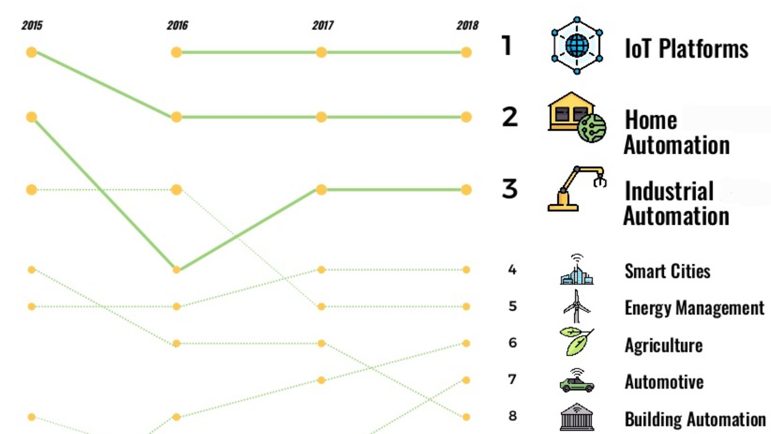 Conducted between January and March, 2018, this is the fourth year that this survey has been conducted and there have been a few shifts in the landscape over this period.
While more of the developers surveyed are involved in Home Automation than Industrial Automation, Agriculture has continued its rise and is now ranked sixth, while Building Automation has dropped to be at the bottom of the list, below Automotive.
Linux (71.8%) remains the leading operating system across IoT devices, gateways, and cloud backends and in terms of Linux distributions Raspbian (43.3%) remains the top Linux distribution followed by Ubuntu (40.2%)
There's a clear leader in terms of languages - Java (66%), which seems a bit anomalous until you remember that the survey comes from the Eclipse Foundation. C, usually regarded as the top choice for IoT development comes second with 57%.
MySQL is the most popular database, used by 45% of respondents, followed by MongoDB (30%)
IoT solutions require cloud platforms and Amazon AWS is the clear leader with a 52% share, up by 21% since 2017. Azure also a 17% increase in adoption to achieve 31% overall, but the Google Cloud Platform experienced an 8% decline and now has less than 20%.
With regard to the key concerns among IoT developers, security remains top of the list (39%). Data collection and analytics has leapfrogged other concerns, including privacy) to take second place (19%), while interoperability , which came second in 2016 and 2017 is now in 5th place (15%) although only just behind the related problems of connectivity and integration with hardware.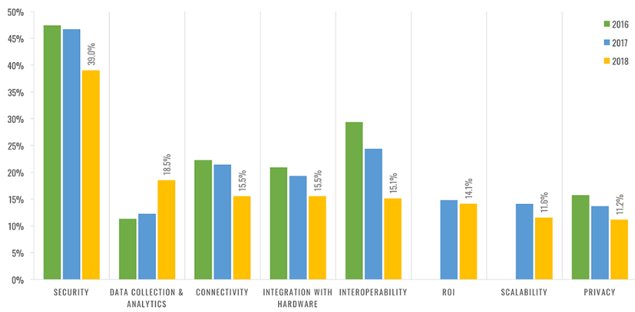 There's plenty more charts in the full report on Slideshare and the data is also available.
More Information
IoT Developer Survey 2018 Key Findings
IoT Developers Gaining In Experience