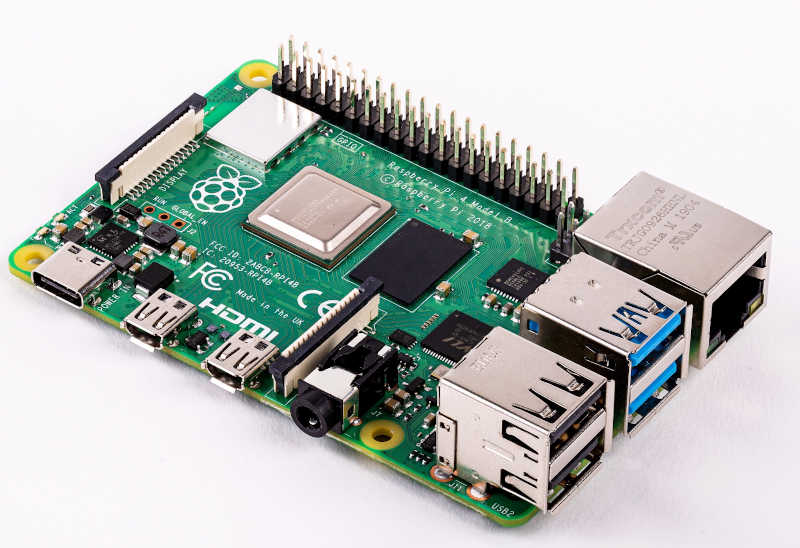 The Raspberry Pi 4 is now available, and for the same base price of $35, but the specifications are much improved. It provides the performance of a desktop machine that you can afford to throw at almost any IoT problem.
The base $35 model comes with a very usable 1GByte of RAM and the upgraded models have 2GBytes or 4GBytes for $45 and $55 respectively. The memory is hardwired and can't easily be upgraded so you make you choice and pay your money. The larger memory makes it possible to consider using the Pi for desktop applications. It is more than enough to run most applications. All of this RAM can be put to good use by a 1.5GHz  64-bit quad core ARM Cortex A72 which claims to be three times faster than the Pi 3. Benchmarks seem to back this up with at least a 2x improvement with only a small power consumption increase.
Other upgrades include full Gigabit Ethernet and two USB 3.0 ports - you also get dual band WiFi and two USB 2.0 ports and upgrade to Bluetooth 5.0. It also has hardware decoding of HEVC video. It is also worth knowing that the power supply is now USB C, so you need an adaptor to use any old USB supplies you have around and they need to be at least 3A.
It is also notable that the audio jack is back and it can be used for composite video as well.
The redesign gives the Ethernet connector a full 1GByte and the USB ports now share 4Gbps total bandwidth.  In theory a single USB 3 port can work at 5Gbps,  but we all know that in practice they rarely reach such speeds with 1Gps being much more typical.
The announcement gives the fine detail:
Raspberry Pi 4 is built around BCM2711, a complete re-implementation of BCM283X on 28nm. The power savings delivered by the smaller process geometry have allowed us to replace Cortex-A53 with the much more powerful, out-of-order, Cortex-A72 core; this can execute more instructions per clock, yielding performance increases over Raspberry Pi 3B+ of between two and four times, depending on the benchmark.
We've taken advantage of the process change to overhaul many other elements of the design. We moved to a more modern memory technology, LPDDR4, tripling available bandwidth; we upgraded the entire display pipeline, including video decode, 3D graphics and display output to support 4Kp60 (or dual 4Kp30) throughput; and we addressed the non-multimedia I/O limitations of previous devices by adding on-board Gigabit Ethernet and PCI Express controllers.
So we have a machine that is probably fast enough for many desktop duties but to make it even more suitable it has two mini-HDMI outputs and dual monitor support up to 4K. For a desktop replacement you are going have to add disc storage, a case and a power supply (3A minimum) and so on. This could mean spending another $20 to $50. There are Intel-based machines that are slightly more powerful for around $150, so it isn't quite as clear an advantage as it first seems, but a desktop Pi for under $100 does look very possible. If you don't want to do the job on a budget then you can buy an official desktop kit for $120, including power supply, case, mouse and keyboard, cables and SD card.
The point is that while it might be a welcome alternative to an Intel/Windows PC but the real revolution is in the IoT world. So much power! If you started working with early 8 bit, or even 4 bit, processors then the idea that you could afford to dedicate a machine with 4G of RAM and lots of processing power to a task is difficult to get used to. 
The Pi 4 is backward compatible with the Pi 3 in most respects, but there is a new case as there are some PCB differences - you can use many of the old cases, but with a small modifications. Of course, many cases won't have the correct cutouts for the new sockets. However it is expected that all Hats, including the PoE Hat, will work with the Pi 4.
It is stated that the Pi 3 range will continue as long as people buy them - but I can't see why anyone would if there are no undiscovered incompatibilities. The Pi 3-based compute modules will also be continued and there might or might not be a Pi 4-based version - let's hope there is.
The Pi 4 was scheduled to be ready in 2020 so the future has come early. For the field of physical computing, and the IoT in particular, this is indeed a revolution. An equivalent of a desktop machine for $35 being available as a controller of ad-hoc hardware is something really game changing. You can now control things faster and control more things. Not only this, but it perhaps opens the door to more on-board intelligence. 
More Information
Raspberry Pi 4 on sale now from $35